---

Editor in Chief
Stephanie Bianco
Produced by RCSJSV
Meeting 1st and 3rd Fridays at Noon
Zoom ID: 880 9178 0972   Join Us
Password: 888548
 
---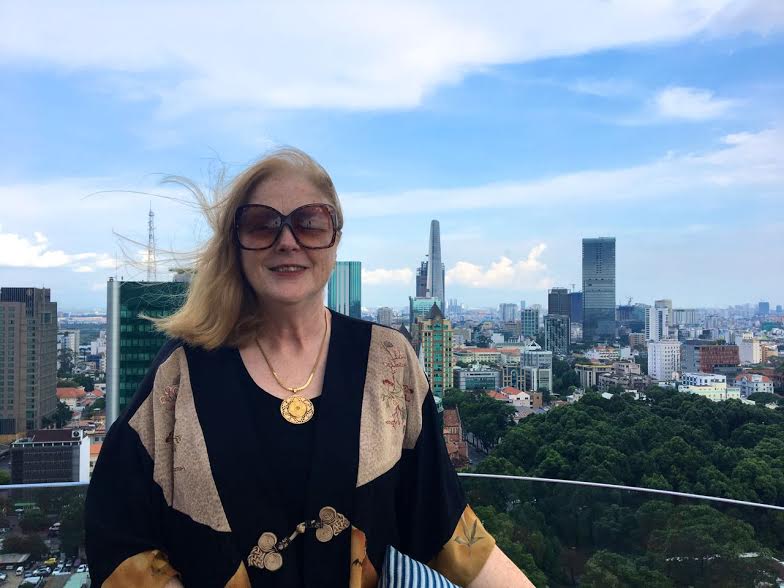 Guest Speaker Sue McKinney
Sue McKinney is co-founder of the Rotary Vietnam Project of District 5170. She works with Rotary, Interact, and Rotaract volunteers to prevent human trafficking of rural girls in Vietnam by sponsoring education, professional skills and vocational development. Sue is a two-time Past President of the Oakland Uptown Rotary Club.
She has lived in Vietnam since 1994 where she's been a force in the business community holding board positions in the American Chamber of Commerce, Operation Smile and the private sector. Sue has been the incountry liaison on many Rotary projects in Vietnam. During 27 years of doing business in Vietnam, Sue has exported thousands of high-quality goods to Costco and other distributors.
Her principal focus is a Botanical Medicine for menopause, uterine fibroids and prostate health, developed in research collaboration with major US medical universities. "Crila" botanical products are processed at an American FDA-inspected facility, and sold to consumers by Amazon, ecommerce websites, and doctors' offices.
Club Meetings
Aug 6:HYBRID MEETING
In-person/ZOOM
At Kris Myers home
1619 Tiffany Way
San Jose, CA 95125
BYOL <bring your own lunch!>
Kris will provide drinks, dessert &paper plates
Aug 20: Palermo's Italian Restaurant
Aug 27: Social, details to follow
Duty Roster
SAA: Trixie Johnson
-- Pledge of Allegiance
--Thought of the day
-- Happy/Sad $:$:
Zoom Host: Kris Myers
Note from the Editor
If you have happy/sad events you would like to announce tyo the club, send me an email for the upcoming newsletter.
$$$$$

HAPPY/SAD

$$$$$

Members are on the honor system. Mail your contribution to the treasurer at the start of each month for the previous month
payable to Rotary SJSV
c/o Brian Bianco
17995 Laurel Wood Lane
Morgan Hill, CA 95037
Foundation Board 2021-22
Chair: Jill Meyers
President: Carol Goedde
President Elect: Geri Hall
Treasurer (non-voting): Brian Bianco, George Uccelli
Member: Kris Myers
Member: Keri Rees
Member: Stephanie Bianco
Member: Lou Bash
Leadership 2021-22
President: Carol Goedde
President-Elect: Geri Hall
Past President: Jill Meyers
Secretary: Janette Rosales
Treasurer: Brian Bianco
Director(1 yr): Diana Reinhart
Director(2 yr): Lou Bash
Director(2 yr): Diony Callo
Director(2 yr): Trixie & Doug Johnson
Reading Through Rotary
The first housing for Reading through Rotary was erected July 12th, at the Glory of the Lutheran Church in San Jose. Present were President Carol Goedde and Rotarians Geri Hall, Lou Bash, Janette Rosales and Diane Reinhart.
The second housing is being painted and will be ready next week.
We need donated paint. We are looking for water base, indoor/outdoor latex paint, basic, bright colors. If anyone wants to participate, contact Carol or Janette. This is a project that offers a lot of opportunity for members and friends to participate and have some fun. Next Meeting: Aug 5th @ 5:00pm The base coat is on and the box is ready for a Paint Party. Join us, Monday, 8/9 @ 9am to put finishing creative designs on box at 121 S. White Rd.
Hunger At Home
STOP, Need volunteers for 8/7, 8/11 and 8/14. Check your Calendars and volunteer. We need help on August 7th, 11th, and 14th. At 1560 Berger Drive in San Jose. Our club participates with other volunteers in preparing grocery boxes for residents in need. Time slots are for two-hour (7:45-9:45 am) or four hour (7:45-11:45am) shifts on Saturdays and Wednesdays. Brian informs the volunteer coordinator of our participation so... If interested, contact Brian Bianco at bianco5479@ gmail.com or (408) 309-3480) to get on the list and receive general instructions. We have invited our area Rotaractors to join in the effort .
Volunteers to date: 
• Aug 7th: Carol, Lou, Steph, Mary Lynn
• Aug 11th: Carol, Geri, Mary Lynn
• Aug 14th: Carol, Lou, Brian, Steph, Mary Lynn
Clean Creeks Coalition
The Rotary club of San Jose Silicon Valley joins with the Clean Creek Coalition to assist in their mission to Reclaim, Restore & Revitalize our watershed. Volunteer opportunities are available for each of the following dates and locations:
• August 4, 2021 - Mid-Week Cleanup Event on Los Gatos Creek at Lonus Street
• August 11, 2021 - Mid-Week Cleanup Event on Guadalupe River at West Virginia Street
• August 18, 2021 - Mid-Week Cleanup Event on Guadalupe River at W. San Fernando Street
• August 21, 2021 - Saturday, SB Clean Creeks Cleanup along Los Gatos Creek at Auzerais Avenue Sponsored by Councilmember Dev Davis.
If interested or have questions, contact Janette Rosales. (408) 772-5059
Volunteers must register online for the event : SIGNUP HERE
Volunteers are asked to arrive by 8:45 am for a safety presentation. SBCCC will be providing trash pick-up tools, trash bags, gloves. Please bring your own water container and water! Wear heavy soled shoes, long pants, hat and sunscreen. The work begins at 9:00 am runs through 11:00 am
District 5170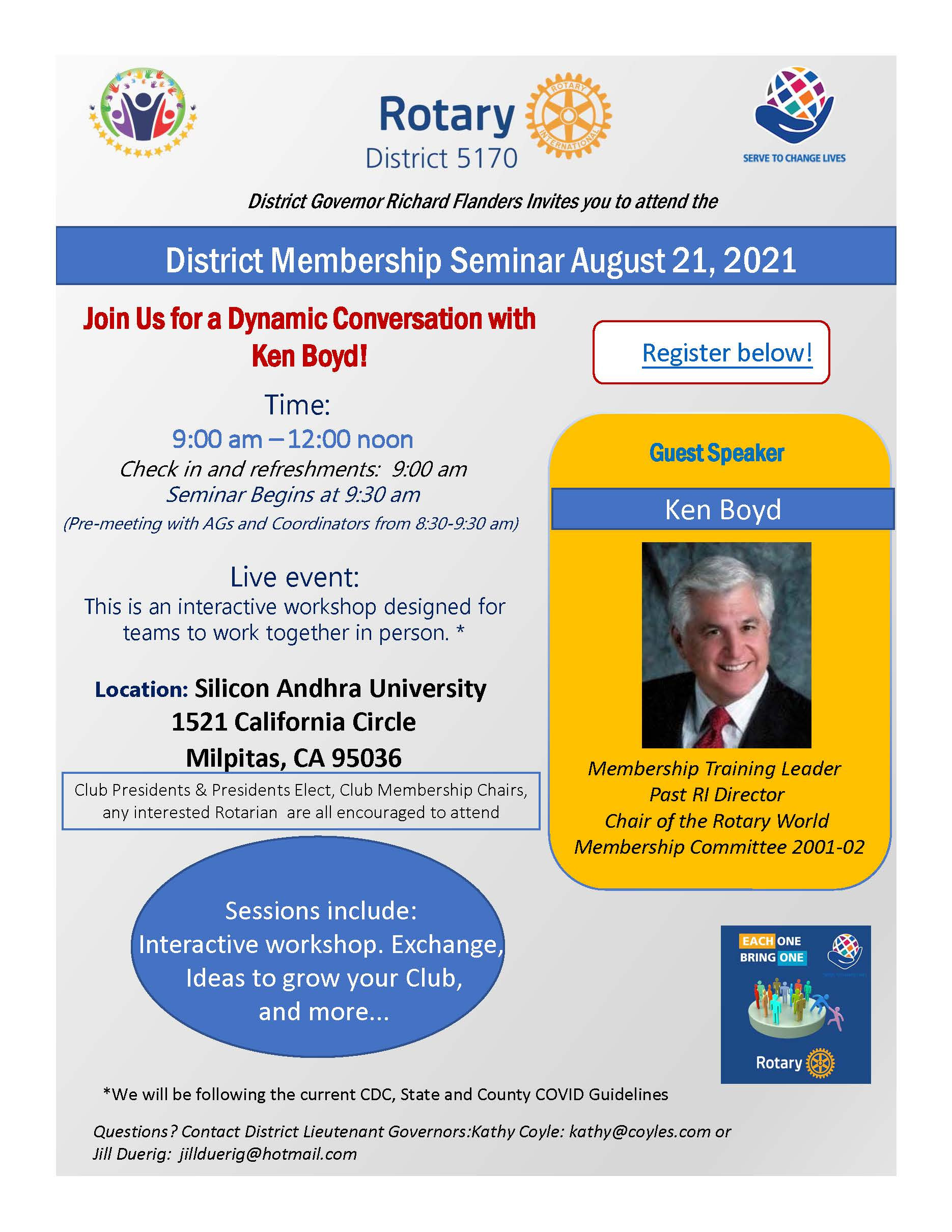 Rotary International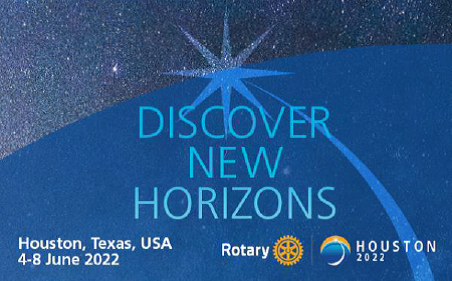 Join us for 2022 Rotary Convention: Discover New Horizons, 4-8 June 2022.
Registration is now open.